Julia Used to Infer that Victoria (Australia) is COVID-Free: Michael Stumpf (University of Melbourne) uses Julia to infer that Victoria (Australia) is free of COVID-19.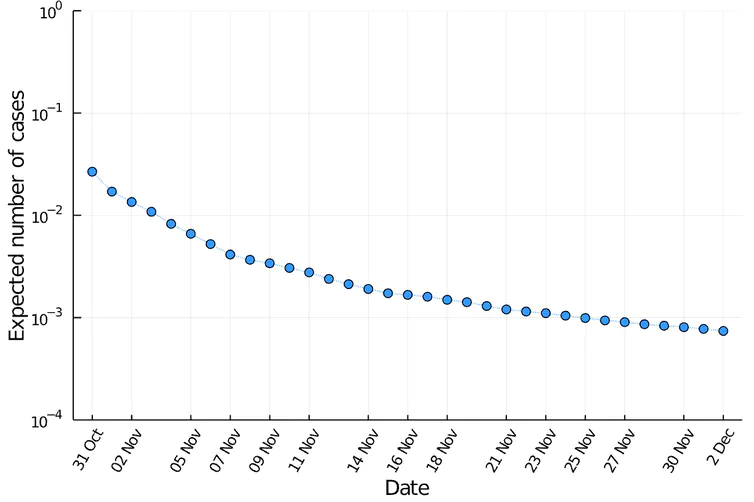 Google Introduces New Version of TPU Stack: At JuliaCon 2019, Julia Computing Co-Founder Keno Fischer identified a major pain point facing TPU users. This year, Google announced a new version of the TPU stack that eliminates this issue and makes using TPUs easier.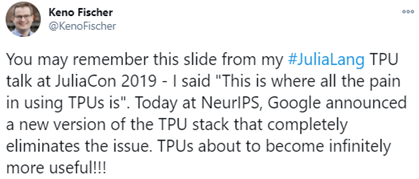 GeoStats.jl Survey: The GeoStats.jl community is conducting a short 6 question survey to better understand GeoStats.jl users. Please click here to participate.
Stipple for Julia App Development: Stipple is a new tool to help you develop, deploy and scale Julia applications. Beta registration is open now.
Slowing the Spread of COVID-19: MIT researchers Raj Dandekar, Chris Rackauckas, Emma Wang and George Barbastathis developed a model designed to help slow and stop the spread of COVID-19. More information is available here.
Julia and Julia Computing in the News
Julia Blog Posts
Upcoming Julia Online Events
Recent Julia Online Events
Julia Jobs, Fellowships and Internships There are hundreds of Julia jobs currently listed on Indeed.com and JuliaLang Discourse. Do you work at or know of an organization looking to hire Julia programmers as staff, research fellows or interns? Would your employer be interested in hiring interns to work on open source packages that are useful to their business? Help us connect members of our community to great opportunities by sending us an email, and we'll get the word out.
Contact Us: Please contact us if you wish to:
Purchase or obtain license information for Julia Computing products such as JuliaHub, JuliaSure, JuliaTeam or Pumas

Obtain pricing for Julia consulting projects for your organization

Schedule online Julia training for your organization

Share information about exciting new Julia case studies or use cases

Spread the word about an upcoming online event involving Julia

Partner with Julia Computing to organize a Julia event online

Submit a Julia internship, fellowship or job posting
About Julia and Julia Computing
Julia is the fastest high performance open source computing language for data, analytics, algorithmic trading, machine learning, artificial intelligence, and other scientific and numeric computing applications. Julia solves the two language problem by combining the ease of use of Python and R with the speed of C++. Julia provides parallel computing capabilities out of the box and unlimited scalability with minimal effort. Julia has been downloaded by users at more than 10,000 companies and is used at more than 1,500 universities. Julia co-creators are the winners of the 2019 James H. Wilkinson Prize for Numerical Software and the 2019 Sidney Fernbach Award. Julia has run at petascale on 650,000 cores with 1.3 million threads to analyze over 56 terabytes of data using Cori, one of the ten largest and most powerful supercomputers in the world.
Julia Computing was founded in 2015 by all the creators of Julia to develop products and provide professional services to businesses and researchers using Julia.
Recent posts
Newsletter June 2022 - Julia for HVAC
20 June 2022 | Julia Computing
Newsletter May 2022 - Julia Computing In-Person Finance Seminar in NY June 1
20 May 2022 | Julia Computing
Newsletter April 2022 - 2021 Turing Award Winner Jack Dongarra Says Julia Is 'Much Better' Than Other Languages and Should Perhaps Take Over
8 April 2022 | Julia Computing
Get the latest news about Julia delivered to your inbox.